Push Bars – Local Locksmith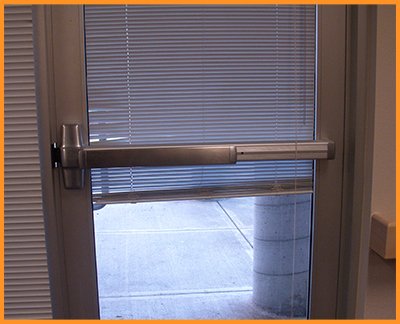 In 1903, over 600 people died when they were unable to exit the Iroquois Theater in Chicago after a fire eruption. If you take a trip down history, it is filled with grim tragedies that led to the need for the incorporation of an effective emergency exit system. As a result, the need to revamp building regulations arose and emergency exit systems were made mandatory for large public buildings, offices and other areas across the world. Of the various types of devices that are prevalent today, the push bars are most commonly used, owing to its extreme ease of use.
Local Locksmith is a premium all-round locksmith service provider in your local area that has been helping clients with push bars installation, designed to eliminate casualties during an emergency crisis.
Here are a few factors to be considered when setting up emergency exits:
1) The type of device used:
It is very important to choose the right kind of device based upon the users and the escape requirements. In cases where the building is used by a specified number of people, the management generally takes the initiative to train them in emergency escape procedures. As they're unlikely to panic during a crisis, the establishment can use a two-way digital panic pad to facilitate exit. In other buildings that receive frequent foot traffic from the public would do well with push bars that are more self-explanatory and easy to use.
2) The placement of escape doors
Escape doors must be set in a path that's easy to access by users. Narrow corridors or a door that's set far off from the main zones of the building is a strict no-no.
3) Safety and security
Getting poor quality exit hardware installed for the sake of avoiding hefty penalties may cost you heavily later. Low-grade doors or improperly installed locks may not function when they're meant to and can be easily manipulated by burglars attempting to gain entry. Always choose quality over everything else
Seek Local Locksmith's expertise:
Over ten years of solid experience has armed us with the requisite technical wisdom to ensure the compliance of exit hardware with security requirements. Right from the installation of first-rate push bars to coming up with suggestions on the strategic placement of exit doors, our experts design customized plans for large corporations, public buildings, offices, malls and other establishments. We also offer periodic maintenance and carry out repairs to ensure that your premises do not violate any norms and are equipped with the best exit system for emergencies.
Get in touch with us today!